CCHCRC, Day 11.
When I first read this review I was like, "Uh, I'm so sure you're 12, bmacleod, and own a copy of
M*A*S*H
." But then I saw he was from Canada.
One more word out of you Mr. Reede, or I'll hold trouble
, August 18, 2001
Reviewer:
A 12-year old viewer "bmacleod@ns.sympatico.ca" (Antigonish, Nova Scotia, Canada)
- See all my reviews
I seen that video [Halloween Costume #11] and he is silly and it is a cool video.
On the part when he was at work the guy in a black beard holding the book yelled, "One more word out of you Mr. Reede, or I'll hold you into trouble," because he was being silly and folish and wasn't behaving at work when he sat down yelling.
The video [Halloween Costume #11] looks like videos out of mine like Far & Away, Black Beauty, Grease, All in the Family, M*A*S*H, Pay it Forward, Cowboy Way, Home Alone & Home Alone 2: Lost in New York.
Halloween Costume #11 is the most exciting one yet, as it holds up to three variations! Just kidding about the exciting part.
A Liar! A Lawyer! A Guy Who Wants to Lie But Can't!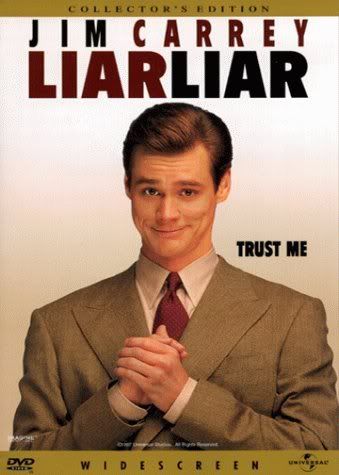 See, not exciting. But certainly versatile, and I particularly like this one because under the guise of being Liar Liar you can tell people what you really think of them, which is that you don't like them, and that they are dumb.
Great
, March 25, 2001
Reviewer:
Jeremy Dillon
- See all my reviews
It mainly makes fun of how lawyers lie. That's a good part. And he isn't allowed to lie. That's the best part
The beginning is hilarious: The teacher asks everyone what their parents do. She asks, "And what's your dad?" He replies, "a liar." I thought that was the funniest part ever. And his wife even cheats on him. Because of always lying. And she likes this other guy, and she almost divorces her husband (the one Carrey does) and it's the only way that he left the court.
Here's another funny thing: He can't EVEN write what color the pen was. Then he had a bunch of "BLUE" on his face.
And this girl asks him for advice to breaking the law. I'm gonna have to not say anything about that. Because it's the best part of the movie. (
I'm sorry, I hate to interject in these masterworks of insight, but how many best parts can this movie have? Seriously.
)
And the son's wish: That his dad can't lie for a full day. The sad part: He breaks a promise in part of it. And he was about to make him "un-wish" that.
Then it was time his wife was on the airport, but he REALLY wanted to stay with her. She got real nervous whenever she saw him. You shoulda seen what she did whenever she took that wrapper off.
And the deal with 'the claw.' She talks about how it impresses the kid. And how it's one quality of him.
For anyone wanting to see the making fun of lawyers, this is for you.
The only flaw: The bathroom humor whenever he beats himeself up.
Liar Liar-A funny movie that isn't "crazy"
, November 25, 2001
Reviewer:
Ethan (Franklin, Wisconsin)
- See all my reviews
This is a AWESOME movie, it has Jim Carrey in it, but he isn't crazy like in his other movies, thats a great PLUS. It's about a man that loves his son, but because he is a lowyer, he has NO time for him, even though he would say promise. Not only is this lowyer, a lowyer, he is a lowyer that lies like crazy, if you have this on DVD collector's edition you get the un-cut part where he lies like crazy, and I mean crazy, and wins the case. Now his son wishes that he can't lie for ONE day, plus with hes wife thinking about going to Bosten with her ex-boyfriend, he's life turns around for the bad. He makes it funny by over-acting and he has to tell the truth, he can't not say nothing. In the end, he wins the case, his wife, and Max.
Acters are very good:9.5/10
Fun, it's a fun movie:9/10
Movieplay, it's not long for a movie:5/10
Sound, it's just right with each secteon of the movie:9.5/10
Overall it's a good movie:9/10
The best jim carrey movie ever!!!!
, April 28, 1999
Reviewer:
A viewer

This movie really lick ass, never seen anything like it!!!!!
Now your Halloween costume can lick ass, too!!!