CCHCRC, Day 13
Last night we made jack-o-lanterns. Clown Coffee made a pro-Kerry lantern. McCullen carved an outline of a ghost holding a slice of pizza. OK Tiger made a pumpkin that has a cat face and a weird, unexplainable "M" on its forehead. Bridget made a unibrowed jack-o-lantern with big, full lips and hair all over. Worker #3116 made one that looks like a retard.
PUMPKIN! PUMPKIN! PUMPKIN!
Dull
, July 17, 2004
Reviewer:
M Pritchard (Moscow Russia)
- See all my reviews
An incredibly dull man does dull things for what seems like most of your life. Makes you understand how Bin Laden recruits
If you dress up as this for Halloween then the terrorists win:
Larry David!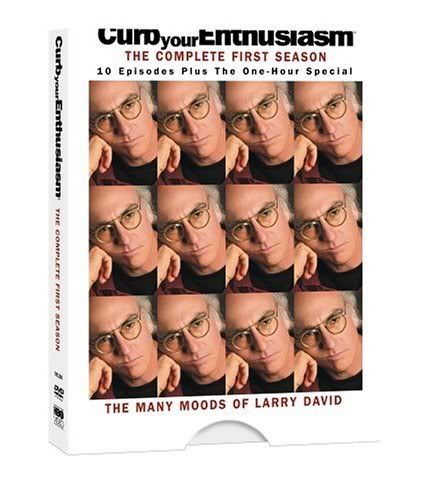 You may not have known that Larry David and his comedy show are on the front lines of the war on terror, but they are, and they're fighting for the WRONG SIDE! Look:
Know what and who you're supporting with your $
, June 20, 2004
Reviewer:
A viewer
Larry David is an outspoken critic of the current American administration. Vehemently pro-Israel and anti-Republican, David uses his Hollywood clout to push his various leftist political agendas. By all means, buy this DVD if you want, but
please be aware of the social and political causes that you will be helping to fund.
In fact, one dollar from every copy sold of the
Curb Your Enthusiasm
DVD is sent directly to terrorists. Now that's scary! PUMPKINS!
Me Stinks it very phunny!!!!
, June 19, 2004
Reviewer:
SpookyChick (in tha' world!)
- See all my reviews
I'm in favor of dis here tv show. It tickle my phunny bone til I kan't stand it anymore, more. Larry David gets all worked up into a big fuss in every episode. What a fuss-budget! And the udder kast members are so phunny I want to run to the bathroom and let it all out! I remember the one where his wife's friend thought he liked her when the they went to the movies together and then the friend told the wife and she was so mad at Larry. And there are lots of phun cameos in diff'rent episodes, like Elaine from Seinfeld is in one (fouler mouthed). And Larry's friend is named Richard Lewis who is a phunny comediean.
Pretty .. pretty ... pretty .... pretty good
, March 16, 2004
Reviewer:
Remixer Richu (Victoria, BC)
- See all my reviews
Last night me and my bud watched Larry for hours, I can never get enough of this American Jewel.
The recent episode SURVIVOR made me roll on the floor and it was so funny it hurt my stomach.
I haven't seen a show this good for a long time.
Sometimes I get queer eyes from fellow workers because I can't help myself to laugh whenever Curb comes on my mind.
Brilliant!!!!
, February 17, 2004
Reviewer:
markus diersbock (marblehead, ma USA)
- See all my reviews
Larry David has that wit that I love. Just like the film AS GOOD AS IT GETS and the show
BECKER
.
The reality-show feel the show has just makes it that much more enjoyable, it gives you the feeling you're just watching this guy stumble through life. He TRIES to do the right thing, but it always seems to backfire in the end somehow, and ends with a laugh while the ending circus theme chimes right in.
Also, the woman who plays his wife ain't to hard on the eyes either!!!! ;-)
Ugh
, January 12, 2004
Reviewer:
"kate_davis4" (Massachusetts)
- See all my reviews
No thanks. I saw Seinfeld and sometimes that it was mildly amusing - when the characters weren't making me consider poking my eyes out with toothpicks, that is. This show is worse, by far. I understand that it has its own appeal to some, but I simply cannot find it. The 'improv' writing is annoying
(for better results, see "Whose Line Is It Anyway?")
, the characters are totally impossible to relate to and just not amusing. At all. Honestly, I can't see how anyone would willingly subject themselves to this show, but to all those who like it, congrats on getting the DVD!