CCHCRC, Day 14
Sunday, October 24, 6:54 PM
Worker #3116:
I'm having trouble finding my costume.
Mom #3116:
Well, we've still got some old costumes at home if you're really running out of time.
Worker #3116:
What, that wizard hat? No thanks.
Mom #3116:
There's a witch's hat.
Worker #3116:
...
Mom #3116:
And a long, black cloak.
Worker #3116:
...
Mom #3116:
I think we have a Nixon mask.
Worker #3116:
Stop talking to me.
MUST UNDERSTAND
, February 28, 2002
Reviewer:
joe j monreal (tucson, arizona United States)
- See all my reviews
Many of these reviews will fill you in on the story, but you must understand that:
1) This is a film for you think about, not entirely enjoy. NOT A TRUE MINDLESS SUMMER POPCORN FILM! This is a film for you to think about, not sit back and relax with like Rush Hour or Aliens.
2)THEY ARE NOT ALIENS, THEY ARE MACHINES FAR ADVANCED, FAR EVOLVED AFTER THE ICE CAPS MELT,
REMEMBER THIS!
This refers to the end, I even thought aliens at first, feeling the film was completely ruined, but then I realized and all was well.
Listen closely to Jude Law, he foretell this.
3)IF YOU CANNOT TELL IF YOU LIKED THIS FILM, THEN THE FILMS HAS DONE ITS JOB. AFter watching the film three times in theatres, I couldn't decide what to think about it, that is why I must buy it.
4)FORGET EVERYTHING YOU KNOW ABOUT SPIELBERG BEFORE WATHCING THIS FILM. It's simply unique, a mixture of vision.
AND FINALLY

5)THEY ARE NOT ALIENS!!!!!

This is my scariest Halloween Costume Suggestion YET! REMEMBER THIS!
Haley Joel Osment!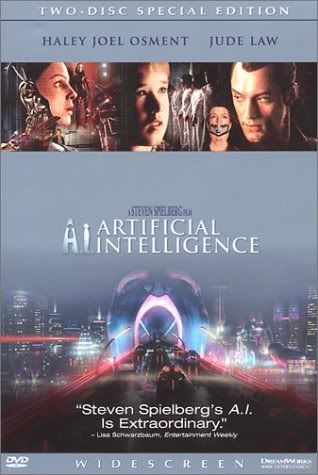 Are you super scary, or are you super gross? I don't know, both? Get the fuck away from me.
The second worst film ever made.
, July 3, 2004
Reviewer:
A viewer
This is the second worst film ever made, (when you factor in budget, of course). It's truly a film for the stupid. This review contains some spoilers.
1. (semi-spoiler) There is a scene where the android boy decides to try and eat, which he's incapable of, and damages himself.
I'm a computer programmer.
If you want your machine to not eat, the solution is very simple: program it not to.
2. (semi-spoiler) There is a scene where the android boy holds a human boy underwater in a simming pool.
I'm a computer programmer.
If you want your machine to not hurt humans, the solution is very simple: program it not to.
3. (spoiler) There is a scene where the gigilo android discovers that a woman has been murdered and goes on the run because he's afraid he will be accused of the crime. Three problems here: 1. The android surely must be programmed not to hurt humans, and if so, that will be determinable by examining his programming. 2. Even if he wasn't programmed not to, there surely must be a way to "replay" his activity- to view his memory. Hell, with today's technology you could store a month's worth of video on a microdrive that's the size of your finger.
Surely anyone who designs an android will make it record at least the last 24 hours of what it's seen.
3. An android maker would surely not allow it the ability to go "on the run". Rather, it would "return home if there's trouble".
4. (spoiler)
Finally
, the movie ends with the pinnacle of absurdity, a ludicrous creme de la creme. The android boy is revived after a few thousand years and androids of the future are able to glean information from within the molecules of him. That by itself is not so bad, sure, I can believe such a technology could exist. Maybe.
But the information only lasts 24 hours. Seriously, I'm not kidding, that's what happens. The information "lasts 24 hours and is gone forever".
I laughed so hard that an usher came over to me.
One other guy was laughing too a few rows over.
5.
Finally
, the film is entirely about the boy's relationship with his adopted mom. That's fine, but what about the importance of loving the father? The dad is just an incidental character. I can understand wanting to "focus" on the mother, but the fact that the film doesn't even see it as a PROBLEM to address somewhere, that seeking love from the father is totally ignored, demonstrates poor writing. Unethical.
The qualities of "A.I."
, December 3, 2002
Reviewer:
Antonio Mosso (Washington, DC United States)
- See all my reviews
The good:
-It Pinocchio in the future
-Amazing metropolis
The bad:
-Confusing story
-Action scenes are not all that interesting
The strange:
-
How the hell are you supposed to raise something that wants to love you but all(including his so called family) discriminate on it?
The awards for:
Stupidest character-The robot's(Osment) father<
Hey, if you are not going to treat that boy droid like a real boy, then don't buy it at all.
>
The overall:
Well, if you are that obsessed over robots, this could be your movie. Otherwise, forget this movie.
Robot Boy? Not!
, October 18, 2002
A Kid's Review
Lots of people expected David to be played using special effects. They were right. Haley Joel Osment must've had special effects! In the whole first half of the movie he didn't blink once!!!! How did our boy do this? Pure talent! That's what! I loved the movie and I hope you enjoy it too!
NOT THE FAIRY TALE EVERY ONE TALKS ABOUT
, March 8, 2002
Reviewer:
Joseph (Monticello, Ky)
- See all my reviews
STEVEN SPIELBURG FOLLOWING UP ON AN ORIGINAL IDEA WHICH CAME FORTH FROM THE GENIOUS OF STANLEY KUBRICK, CREATED AI, A BIZZARE FAIRY TALE OF SORTS SET IN THE DISTANT AND NOT TO DISTANT FUTURE. HALEY JOEL OSMENT PLAYS DAVID! AN ARTIFICIAL BOY WHO HAS BEEN PROGRAMED TO LOVE AND FEEL PAIN LIKE A HUMAN CHILD, AND SOON REALIZES THAT HE WOULD HAVE PROBABLY BEEN BETTER OFF HAD BE NOT BEEN PROGRAMED TO FEEL EMOTION. MANY REVIEWERS FEEL THAT THE FUTURISTIC RE-TELLING OF PINOCHHIO HAS MABEY WENT JUST A LITTLE TO FAR. WELL! IT DOES AND IT DOSEN'T. FIRST LETS BREAK THE FILM DOWN. THE STORY IS ABSOLUTE GENIUS. A LITTLE ROBOT BOY WHO WAS MADE TO FEEL EMOTION AND PAIN, FINDS THAT HOSTILE PEOPLE INCLUDEING HIS ADOPTING MOTHER AND FATHER FEEL MORE HATE THAN LOVE. WHY WOULD HIS MOTHER AND FATHER BE HOSTILE? WELL THEIR NATURAL SON RETURNS HOME FROM CRYO-SLEEP, AND
SIMPLY PUT
, THEIR NATURAL SON, DOSEN'T TAKE TO DAVID (OSMENT) AS THEY HAD HOPED. SECOND HAVEN'T WE BEEN HERE BEFORE WITH "BLADE RUNNER". ROBOTS WHO JUST WANT TO LIVE, AND LOVE!
ALSO, THE MOVIE LEAVES A FEELING OF UTTER DEPRESSION. WHY? I DON'T KNOW!
PERHAPS BECAUSE WE FEEL PITY AND SYMPOTHY FOR DAVID. A ROBOT! WHY? MABEY BECAUSE WE SOMETIMES FORGET THAT HE IS A ROBOT AND JUST AN INNOCENT IN A EVIL WORLD. A INNOCENT WHO WANTS TO BE LOVED AND INTURN LOVE AS WELL. THE CARACTERS THAT DAVID MEETS ARE TRUELY THE REAL STARS THOUGH.
JUDE LAW PLAYING A ROBOT WHO PLEASES THE LADIES.
WILLIAM HURT PLAYING THE CREATOR, "A THROUGH BACK TO MR. GHEPPTO", AND TEDDY WHO IS "A THROUGH BACK TO JIMMNEY CRICKETS" THE REAL STAR. BUT ALL THAT ASIDE, AS I MENTIONED THE FILM LEAVES THE VIEWER WITH A FEELING OF UTTER DEPRESSION. AND I THINK IT INTENDS TO DO JUST THAT! THE TRUE DESPERATION (WHICH TURNS TO AN OBSESSION) BY DAVID TO BECOME HUMAN IS, REALLY HEARTSINKING.
THE FILM WHICH IS SET IN THE NEAR FUTURE AND PROPELLS ITSELF TO THE FAR FUTURE TAKES US ON A JOURNEY THAT NO LIVING HUMAN SHOULD EVER HAVE TO ENDURE.
AI FORCES US TO ENDURE A MECHA'S (SLANG FOR ROBOT) HELL'ISH JOURNEY WHICH SPANS OVER 2,000 YEARS. PERSONIFIED BY A CHILD. DISTURBING TO SAY THE LEAST. WHAT MAY BE FAIRY TALE TO SOME IS NIGHTMAREISH TO OTHERS. AND I FEEL THAT THE MOVIE WAS VERY NIGHTMAREISH TO SAY THE LEAST. AND DEF. NOT FOR THE CHILDREN! NOW LETS PROBE THE ENDING OF THE FILM (NOT GIVING ANYTHING AWAY). MANY HAVE CRITIZIED THE ENDING, SAYING THE END OF AI RUINED THE ENTIRE MOVIE. WHY? THE ENDING DOSEN'T REALLY HAVE A SAD ENDING NOR DOES IT REALLY HAVE A HAPPY ENDING. IT JUST HAS AN END. AND I FEEL THE STANLEY KUBRICK AND SPIELBURG INTEDED TO DO JUST THAT BRING THE ENDING TO A FILM. MABEY YOU COULD INTERPRET THE END IN OTHER WAYS BUT I FEEL THAT THE END IS JUST THAT. THE END!!! AND MANY WHO WATCH THE FILM WILL UNDERSTAND WHY. OVERALL 3 STARS, COULD HAVE GOTTEN 5 BUT AS I SAY ITS DO DEPRESSING AND LEAVES MEMORIES OF OSMENT WAITING FOR 2,000 YEARS TO BECOME HUMAN. FAIRY TALES ACORDING TO AI COME TRUE, BUT DEAR LORD DO THEY....