Corporate Casual Halloween Costume Review Countdown, the Sixth
Let's just get it fucking over with already.
first of all let me say I'M NOT GAY
, March 18, 2004
Reviewer:
Eric "ericdelaplaneteterre" (dans l'espace)
- See all my reviews
but yhese sexy boys are and they taught me how to dress really nice. Only problem is now gays seem to hit on me wherever I go. Oh well, maybe one day I'LL do a little more experimenting ilke back in College.
You're already gay, now you just need a necktie for a belt, and you can be...
A Queer Eye for a Straight Guy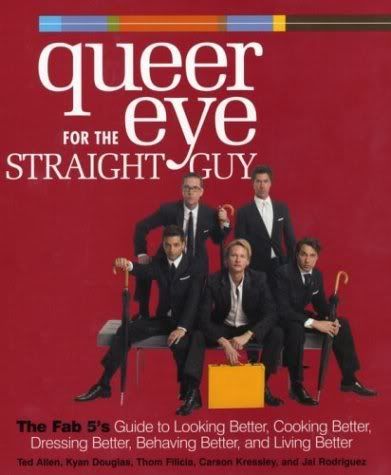 This is five great costume suggestions in one. It's especially great if you're ugly, as many of you are, because then you can be any one of the guys who aren't Kyan. Get stuffed, finally, you fudge packers!
cOol~
, February 16, 2004
Reviewer:
aabb
- See all my reviews
This is a very great book. It is so creative and the ideas are so attracting. The Queer Eye are really versatile. I would always longed to have someone helping me on with all these beauty espects!!
Through reading the cases, I try to observe and remember the tips. I hope I can learn from the Queer Eye and try to combine their tips together in the future and create a perfect image for myself.