Loving to Love the Womens of the World!!!!!!!!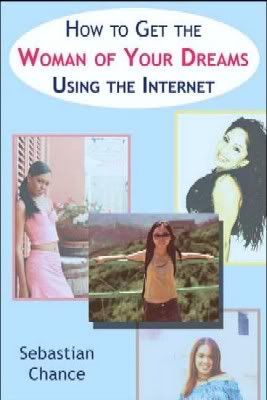 Inside you will find how to:
• choose the most productive virtual dating sites
• download and use instant-messaging services
• create a profile no woman can resist
• use e-mail and instant messages to win her heart
• get a visa and passport if she lives outside the U.S.
From chapter 1, "The Decision," page 11: "First, you must decide what type of woman you want, including her physical and personality characteristics. Of course, many different types of women are available; your job is to pick those who will best suit you, in terms of morals and character as well as looks. You should also consider such things as accent, age, hair color, eye color, and even cultural background. This has to be something that you alone decide. Then, you are going to target these specific types of women, who can easily be searched for on any dating site found on the Internet."
From the section on winning her heart, page 43: "Here's a small part of a conversation where I won over an eighteen-year-old girl within a week. Yes, you can do it, too! It's really not that difficult, but you have to be smooth and watch what you're saying. I told you before: You want to be unlike anyone she has ever met before.
Me (2:30:42 PM):
You're adorable
Her (2:30:49 PM):
am I really?
Me (2:30:59 PM):
yes I think you're a very special woman
Me (2:31:03 PM):
why you ask me
Me (2:31:08 PM):
I told u you were
Me (2:31:09 PM):
hehe
Her (2:31:24 PM):
hehe thank you I think you are very good-looking
Me (2:31:34 PM):
Thank you baby
Me (2:31:46 PM):
but I must admit I think you're also very beautiful
Her (2:32:09 PM):
hehe thank you so what kind of trips do you take?
Me (2:32:20 PM):
really anything baby
Me (2:32:31 PM):
like I'm going to cedar point this month
Me (2:32:35 PM):
no biggie
Me (2:32:44 PM):
but also on labor day I'm going to Texas
Me (2:32:53 PM):
I like to travel and I want to go to Edmonton in Sept. also
Me (2:33:07 PM):
they have the biggest mall in the world there
Her (2:33:16 PM):
I love malls
Me (2:33:21 PM):
no way
Me (2:33:27 PM):
I love walking hand in hand
Me (2:33:40 PM):
and watching u try on clothes and model for me
Me (2:33:41 PM):
hehe
Me (2:33:49 PM):
and of course you can buy whatever you want
Me (2:33:51 PM):
lol
Her (2:33:56 PM):
hehe whatever I want?
Me (2:34:03 PM):
of course I don't care
Me (2:34:12 PM):
it's my job to spoil u crazy
Me (2:34:13 PM):
haha
Her (2:34:24 PM):
hehe wow i like soo how old are you?
Me (2:34:36 PM):
I thought I told u haha
Me (2:34:38 PM):
38
Her (2:34:50 PM):
thats cool not too bad
Me (2:35:13 PM):
aw thanku cutie
From the section on instant-messaging, page 70: "Above the text box is a button labeled 'environment'; here you can select a background for your text messages or maybe play a game. There are many to choose from and you should try them all. The one I most frequently used was the 'falling hearts' environment; it was very romantic and set the mood for our conversations. But of course the first one you will have is your basic white background, and as time goes on and you win her over, use the falling hearts. It works great for creating an in-love atmosphere."
From the section on visas, page 79: "As I stated before, it is very difficult for any woman who is young and attractive to get a visa to the U.S. And as I have also told you in the previous chapters, this is because of the huge number of women who would come over here and never leave; they want to escape their country and come to the land of the free. Could you imagine how this would disrupt our already out-of-balance status with marriages and the family unit? I mean, if hundreds and thousands of young, beautiful women entered here every day searching for a husband, what a mess that would be for the economy, not to mention the current marriages that are in danger now of failing."
Also available in gay.