You're a Good Girl, Judge John Roberts
I would like to issue a formal apology for yesterday's criticism of the Human Rights Watch's attempts to force the senate into a more thorough examination of Judge John Roberts's position on gay rights, and his qualifications to sit as a Justice of the Supreme Court of the United States. Disturbing new developments have made it clear that we must raise awareness about the potentially dangerous psychology of a man who on the surface appears to be completely normal, but who is clearly anything but. Normal. Send money everywhere now.
Please take careful note of the caption that accompanied this photo in today's
New York Times
: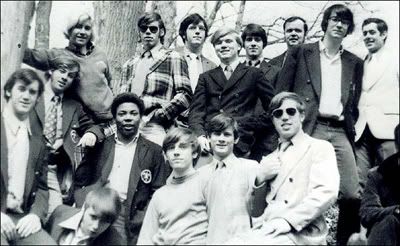 Judge Roberts in the front row, second from the right, in a La Lumiere drama club photo. During his junior year, he played Peppermint Patty in the production of "You're A Good Man, Charlie Brown."
Who played Marcie? That black dude?
I need an adult.