Don't Shame Your Family, Don't Get Killed by a Previously-Scary-but-no-Longer-Scary Clown
Announcement: Clowns have gone from children's amusement to creepy horror trope to super overused cliche horror crutch. If you want to make a horror movie, but you've got no ideas, get a clown, and then get a real job. So scary. NOT!
Boo, clowns!
Clown outfits would get so in the way of a successful killer. Those big floppy shoes and Mickey Mouse gloves? Not to mention the heat of full-facial grease paint. Anyhow, scary clowns are out.
If some killer dressed up as a clown and broke into your house, I think that you would be scared, I'm not an idiot. But I don't think the clown part would be scary. In fact, I think there would be a moment before your entrails were tied to the back of a wooden dining room chair where you'd be like, "Um, nice clown outfit. Is it a rental, or do you actually own that fucking thing? You look like a retard." Getting killed by a clown would be very embarrassing, too. You would bring shame on your entire family if you got killed like that.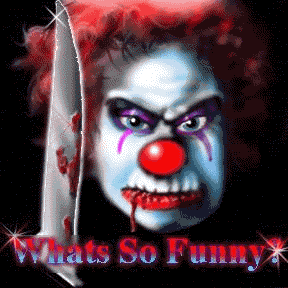 NOT SCARY!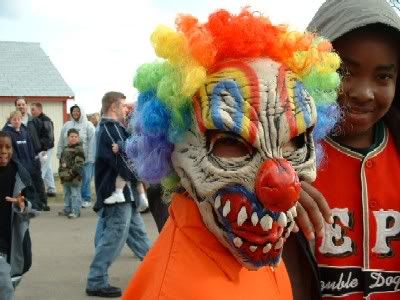 FOUND ON A WEBSITE FOR UNICEF. ALSO: NOT SCARY!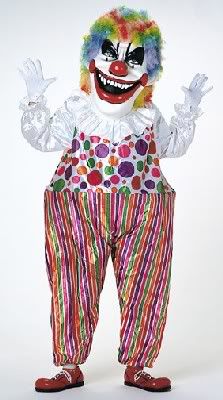 DIAGNOSIS: NOT SCARY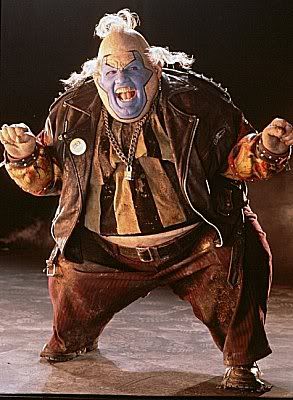 JOHN LEGUIZAMO: SCARY