STEVENS SAY DRILL. NO MAKE STEVENS MAD! YOU NO LIKE STEVENS WHEN STEVENS MAD!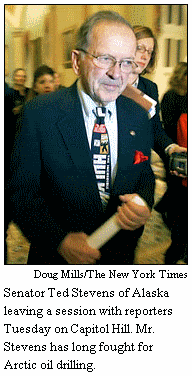 Look, I'm no fashion saint. There are photos from my bar mitzvah party that feature me in pegged jeans, a paisley shirt, and patent-leather shoes WITH METAL TIPS. I've had blue and purple hair. Shit, I've had LONG hair. When I was a freshman in high school I thought it was really funny to wear company shirts, like a Domino's Pizza delivery boy uniform or a t-shirt advertising Klondike bars (this is the same period of my life where I only listened to Kool Oldies on the radio). One day I wore a sombrero to school, I don't know what the fuck was going on. All of that being said, throughout my many years of fashion faux pass-that-dutches, I've never worn an Incredible Hulk tie, much less when I was chairman of the Senate appropriations committee.
STEVENS SMASH REALM OF PUBLIC DECENCY AND ELEVATION OF PUBLIC DISCOURSE. SMASH SMASH SMASH.