In Like a Pedro the Lion, Out Like a Band No One Ever Cared About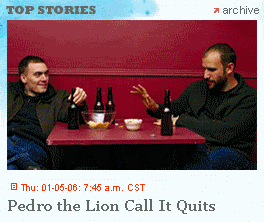 (pitchforkmedia.com)
HAHA. This is very reminiscent of the time that China Jet and I saw a listing in the paper for a Ray Bradbury book signing and were both surprised to learn that HE WASN'T ALREADY DEAD!
If a band splits up and nobody cares, were they ever together to begin with?
I'm sure that TW Walsh and David Bazan will both land safely on their feet writing the musical score for some Mel Gibson proselytizing Virgin Mary movie filmed in an archaic Hebraic dialect that even Jesus would have found hard to understand. Or they'll form Creed cover bands. Or they'll just keep doing what they've been doing: sucking.